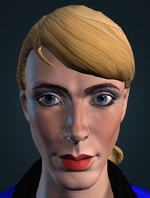 Soixante-Trois Airlines is the fourth story in the 'Jamieverse', first published on BigCloset TopShelf on the 15th of March 2015. Unlike the other stories in the Jamieverse, it is told in a past tense third-person perspective (ass opposed to the other stories' present tense first-person perspective), and focusses on multiple characters rather than revolving the entire story around one central protagonist. It is also different in that it is split into 'seasons', with each season revolving around a different character's storyline.
Main Characters
Edit
In addition, Soixante-Trois Airlines has an extensive supporting cast of characters, including-
Chapter List
Edit
Characters in italics were introduced in a previous Jamieverse chapter but are making their debut in this particular story. Passengers on flights are not included in the character list unless they are named.
Season 1
| | | | |
| --- | --- | --- | --- |
| Chapter | Publication Date | Word count | Characters Introduced |
| 1 | 15/03/2015 | 12118 | M Marotte, Jessica, Marie, Elsa, Natalie, Zoe, Paris manager, Paige, Stacey, Hiromi |
| 2 | 05/04/2015 | 7590 | Michael, Amelie, Karla, Katarzyna |
| 3 | 10/05/2015 | 6336 | Chloe, Sara, Helena, Jacques, Jessica's mother, Paige's father |
| 4 | 29/06/2015 | 8764 | Rachel, Annabelle |
| 5 | 02/08/2015 | 9171 | Anna-Jade, Eleanor, Natalie's mother |
| 6 | 23/08/2015 | 11963 | Carly, Michelle, Saskia, Alice, Paige's mother, Nina, Trisha, Jessica's father, Aaron, Hayley, Abbey |
| 7 | 17/09/2015 | 12877 | Beauty pageant emcee, Brigitte |
| 8 | 23/10/2015 | 11113 | Clara, Alana, Monsieur Masson, Out of Heaven, Jamie |
| 9 | 18/12/2015 | 13251 | Interviewer, Marie & Zoe's mother, Dr Finlay |
| 10 | 01/02/2016 | 18427 | Amy, Lizzie, Anna-Jade's father, Mary, Dan, Kristina-Leigh, Michelle, Marie & Zoe's father |
| 11 | 03/03/2016 | 12683 | Rhianna, Tanisha, Rosita |
| 12 | 11/04/2016 | 12887 | Samantha, Monsieur Durand, Lisa, Krystie, Rachel's mother, Abbey's mother, Tanisha's grandmother |
| 13 | 17/06/2016 | 15751 | Paul, Anna-Jade's mother, Monroe |
| 14 | 29/08/2016 | 13381 | Stuart, Danny, Ellen, Sasha |
| 15 | 03/11/2016 | 16566 | Amelie |
| 16 | 24/01/2017 | 18537 | Scott, Jonny, Callum, Joanne, Zara |
Season 2
| | | | |
| --- | --- | --- | --- |
| Chapter | Publication Date | Word count | Characters Introduced |
| 17 | 13/05/2017 | 11768 | Sophie, Amy, Hayley |
| 18 | 01/08/2017 | 15763 | Jemma, Hannah, Stephanie, Nikki, Jenny, Sarah |
| 19 | 12/09/2017 | 11065 | Amy's mother, Amy's father, Sophie's mother, Sophie's father |
| 20 | 06/02/2018 | 13101 | Ophelia, Natalie's brother |
| 21 | 03/06/2018 | 15198 | Rachel, Lucas |
| 22 | 10/09/2018 | 10678 | Denise |